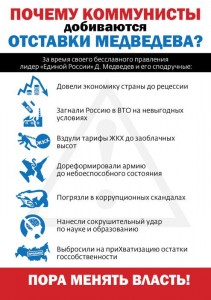 The Communist party of the Russian Federation steps up with its call for resignation of the ruling government. Despite being approved by President Putin in May 2012, the cabinet of ministers hangs on the long-established policy dating back more than 10 years ago. Earlier the Chairman of the Government D. Medvedev held position of the First vice-chairman of the government and served a 4-year presidential term. He and his cabinet, therefore, are fully responsible for the current social and economic policy and its consequences.
We suppose that the government has led the country to the edge of systematic turmoil. Its policy swiftly worsens… Not a single industrial or agricultural reform has led to positive results. Moreover, those reforms are becoming even more destructive. Our country's economy and its people's lives are prone to the influence of multinational corporations. Russian Federation is quickly losing its positions as a sovereign state. It is credited with the status of a raw-materials appendage in the world output system.


Russian government has got all the reasons for resignation. We find it necessary to especially put an emphasis on 10 reasons.
1. The government hangs on the ill-fated policy.
Twenty consecutive years of "economic reforms" have resulted into Russian industry having dwindled by two thirds, leaving this country far behind. Presently Russia accounts only for 2% of the world economy. The government would continuously reiterate the need for a diverse economy and promise to reverse current dependency on raw exports. And yet still 70% of the revenue directly relates to hydrocarbon activities. Moreover, only 6 of 16 trillion rubles that come from raw exports annually reach treasury, the rest being plundered by national and foreign oligarchs. Small and medium enterprises shrink under consistent pressure.
The government adheres to pipeline, or oil dependency economics rejecting development needs of the country. Looting exploitation of Russian natural wealth causes uttermost damage to the national interests of this country.
2. There seems to be no change in good-for-nothing financial policy.
In 2013 Russians saw international reserves decrease by 23 billion dollars. By the end of June we had 514,5 billion in international reserves. Thus, Russia will face a new phase of the world economic crisis less prepared than in 2008, when this country had 598 billion in reserve. Disinvestment policy of the government, that intensely transfers Russian reserves to the US and other countries, is highly detrimental to the social and economic capacities of the country.
Sovereign debt has grown again. Consolidated external debt grew by more than 10 percent in the first half of the year, roughly estimated at 700 billion dollars. This figure significantly exceeds Russian international reserves. A new default is a real threat. Officials claim that estimate includes not only sovereign, but also private debts and avoid the issue of the Russian state being a private loan guarantor.
The government is incapable of solving the capital outflow problem, which means 50-70 billion dollars leaving the country annually. From January to June 2013 more than 38 billion left the country. Some experts say that up to 100 billion dollars annually leaves the country off the books. In this regard frail attempts by the officials to attract investment seem incredibly hypocritical.
3. As government carries on with depraved privatization campaign, major industries fall under foreign jurisdiction.
Extreme reluctance of the national government to implement a stronger regulatory function is at odds with intrinsic needs of this country as well with universal economic trends. Residual state property, including 1400 strategic enterprises, is being sold according to the new plans. Energy businesses, railroads, airports, banks are thrown to the market. State-promoted mechanism for productive forces management is being dismantled. Material, financial, labour and intellectual resources are intentionally left uncontrolled. Foreign ownership involves maximum profit gains, with no attention whatsoever paid to the development or upgrade of productive capacity, given government's failure to foster such activities. Real economy, therefore, is deteriorating. GDP in the first quarter of 2013 shrank by 16,4% compared to the figure for the last quarter of 2012.
4. The ruling government fails to promote stable economic growth.
Economic growth index in the first quarter of 2013 rose only as high as 1,6%, which is three times less than in the same period of 2012. Industrial growth shows no virtual progress. With a rise in inflation to boot, we must admit that this country is facing large-scale recession. Setting hydrocarbon activities aside, it is weak industry that accounts approximately for mere 5% GDP that makes things even worse. Fixed capital depreciation ratio has hit 60-70%. Consequential sectors like machine tool, aviation, farm machine, consumer goods industries disintegrate further. Imports of aircraft, pharmaceuticals, machine tools have risen dramatically over the last ten years – seven, eight and twenty seven times respectively. Rocket-and-space sector is steadily falling apart.
Agricultural policy leads to its collapse. Agriculture accounts only for 4,4% GDP. More than 41 million tillable hectares are abandoned, weeds thriving all over it. Rural infrastructure has been ruthlessly scattered. 14000 schools, 16000 cultural clubs, 4000 libraries closed their doors. The wipeout of the villages is in progress. There is no sedentary population left in more than 19000 settlements. Miniscule funds have been allocated for rural social development in 2013. And it gets worse. There will be no allocation whatsoever quite soon.
As a corollary, agricultural production slumps. Imports cover a half of Russian food supply. The nation's diet has disimproved significantly. Russian food security has been aggravated by its very own government.
5. Joining the WTO on unfavorable conditions causes damage to national interests.
Joining the WTO means extortion. The government failed to negotiate tariff barriers indispensible to the protection of the Russian economy. Furthermore, they failed to train capable experts that could represent national manufacturers in international organizations.
What do we have now? National exports nearly stagnate, as opposed to rapid growth of the imports. This country supports foreign manufacturers instead of national ones. By 2015 aggregate damages to treasury related to WTO will have hit 835 billion rubles. After national industry is on its knees, who will stop foreign capitalists to set prices on everything ranging from staples to machine tools, machines and aircraft?
6. Government policy brings Russian regions to the edge of bankruptcy.
The amount of debt on the spending powers of the regions of Russia exceeds1,4 trillion rubles. And that debt continues to grow. This is the natural result of dropping the social obligations of the state to the regional level. Warnings about the consequences were repeatedly made to members of the Government of the Russian Federation, but they were ignored. Impoverished areas are harsh realities of modern Russia. Ministry of Economic Development predicts that by 2018, the total budget deficit of subjects of the Russian Federation will grow to 1.8 trillion rubles. And meanwhile, the Ministry of Finance refuses to give the regions of Russia even low-cost loans for the next year.
7. The Russian government cuts on social security expenditures with maniacal persistence.
Russia is a welfare state according to the constitution. However, the government consequently ruins the social guarantees that have been gained by people. As the result, UN warns that Russia ranks 53 in education and 120 in access to healthcare. Russia holds a shameful 97th position by average life expectancy. Nevertheless, the government continues its fallacious policy. In 2013-2015 it intends to decrease healthcare expenditures from 4,4% to 2,7% of the whole budget, education expenditures – from 4,8% to 4,1%. Our educational system is violently reorganized. High school education is deformed by the introduced unified state exam. The Government carries on with a campaign aimed at a decrease in educational institutions number as well as at cutbacks in scholarships. Quality of education and its availability continues to fall down.
Social inequality has risen unprecedentedly. The government recognizes the 16-fold income gap between the 10% highest-income and 10% lowest-income households. Various independent researchers claim that the gap is twice as big. Millions of families suffer from growing problems in utilities sector, food, fuel and pharmaceuticals supply.
8. The state policy leads to scientific and technical decay
The general high-tech output in Russia has become incredibly small. The share of high-tech products in Russian exports has declined to 0,3%. In spite of this, the government allocates less that 1% of the budget for the research and development. The figure is several times less than in the USA, EU and Japan. Expenditures on science constitute less than 2% of the whole federal budget. The support of several fundamental federal scientific programs is dismantled starting this year.
The Russian government must urgently take additional measures to support national science. Instead a completely different step was taken. Secretly and without required public attention and discussion an unprecedented law bill was proposed with intention to reform Russian academy of sciences and other academies. In fact, it overturns the established academic science system, transferring the controls over property to furtive bureaucrats. The "reform" has been strongly rejected by the scientific community. If implemented, the reform threatens this country with irreparable damage.
This attempt to scuttle an academy dating back three centuries ago reflects its flagrantly antinational nature. The Government virtually chose to obliterate fundamental science in order to please antinational forces. This country is being dragged to the backyard of the world development.
9. The Russian government has proven completely incapable of dealing with corruption and other national security threats.
The Committee against Corruption has stated: total annual revenue of Russian bribe-takers is estimated at $ 300 million. Notorious scandals related to financial irregularities in the Ministry of Defence, in the"ROSNANO"group and the "Skolkovo" fund point at total corruption of the state apparatus. While recognizing the seriousness of the problem by word of mouth, the government has failed to take effective measures to cope with it. Those found guilty of embezzlement emerge unscathed after all. Corruption in Russia is among the most critical national issues. Uncontrolled migration is a growing concern of citizens. Missiles, aircraft and helicopters fall almost weekly.
10. Government's specific activities as well as its inactivity have undermined the defensive capacity.
Military conflicts are breaking out even closer to the borders of the Russian Federation. Our country is surrounded by foreign military bases. Its defense capability, including nuclear missile potential, has seriously deteriorated. While the Russian government abides by the "NewSTART" signed by Medvedev, the United States are continuously increasing fleet of cruise missiles and high-precision weapons and developing a strategic missile defense system.
For six years Serdyukov's clique has been shredding the structure and personnel of the Armed Forces, has closed unique military educational institutions. As a result of these criminal activities only 100 brigades remain in the Army, 39 of which are combined arms. It is less than 10 divisions in combat equivalent. For comparison, the Red Army faced the Great Patriotic War with 303 divisions on hand.
Today Russia has only 120 airfields out of 1223, 60 out of 1600 runways. 1,200 out of 1800 combat aircrafts are in need of repair. There are huge "loopholes" in the air defense. The major economic centers have no air cover: Perm, Izhevsk, Vladimir, Nizhny Novgorod, Omsk, Chelyabinsk, Tula, Ulyanovsk. Only over the recent years the sea-borne fleet has seen a 90 percent decrease. The result of these "reforms" is as follows: the Armed Forces of Russia are no longer capable to successfully defend the country even from a local conflict.
Based on mentioned facts, we believe that the activities of the present government cause irreparable damage to the Russian economy, reduce the living standards, destruct the defense capacity of the entire Russian security system. All of this represents a threat of losing state sovereignty.
Taking into consideration the interests of the multinational people of Russia and relying on the provisions of the Constitution of the Russian Federation, we have decided to submit to the State Duma motion of censure to the current government. We urge our parliamentary colleagues to realize the tragic reality in which the country finds itself and to support our initiative. A sense of responsibility for the fate of the people requires principle-based assessment of what is happening now and willingness to act.
The ruling cabinet must be replaced by one based on coalition that follows national interests and enjoys national trust. New cabinet will include a pro-team ready to override degrading policy. Its goal will be to guide this country onto a path of dynamic and sustainable development. Particular and productive tasks will inherently underlie the new cabinet action plan.
1. Primary measures shall be as follows: nationalization of raw resources and key economy sectors, new industrialization, agricultural recovery, infrastructure development, accelerated scientific development, as they form a basis for the country's modernization.
2. Government shall guarantee to its citizens their housing rights, expand on housing construction and restore full responsibility for utility sector. Utility expenditures of the households shall meet a 10-percent-of-the-total-income ceiling.
3. Government shall pay utmost attention to secure decent salaries and retirement benefits. It shall enhance the access of its citizens to high-quality free of charge healthcare, as well to education and culture. The cabinet shall pursue the motto "Education for everyone". In two years time budget allocations on culture shall double. Gifted children and youth shall obtain necessary support.
4. The cabinet shall implement each and every measure in order to prevent the dying out of the country. We shall run poverty-fighting programs, protect mothers and children. Government activities shall be aimed at stopping the population outflow from Siberia, Far East and Russian North.
5. National security shall be enhanced. National government shall ensure efficient prevention of crime and fight against corruption. Resourceful foreign and defense policy shall attract allies and regular partners of Russia, contributing to the establishment of the international relations based on equity.
Present situation is disturbing. Russia is in desperate need of the National trust cabinet.
We ask our fellow citizens, worker's associations, veterans, youths, representatives of science and education, healthcare and culture, business and bureaucracy for support. We call for a close discussion of this initiative and urge to step up with new demands. Keeping your opinions in mind, we will file a Motion for censure of the Russian government with the State Duma.