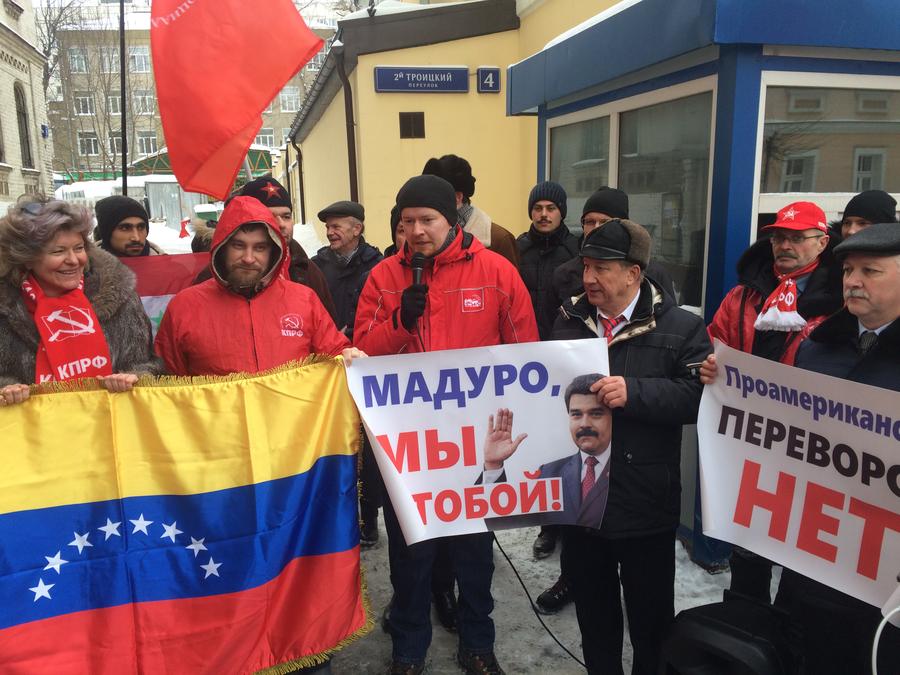 On January 28, 2019 the CPRF arranged a rally in support of Nicolas Maduro – the only legal President of Venezuela.
CPRF Parliamentarians Denis Parfenov and Valery Rashkin in the strongest possible terms denounced the interference of the USA in the home affairs of the Bolivarian Republic of Venezuela in an attempt to subordinate it to the American interests alien to the Venezuelan people.
According to Denis  Parfenov the situation in Venezuela, is one more example of  flagrant violation of International Law and provisions of the UN Charter by the US and other countries following American  intervening in the internal affairs of the Bolivarian Republic of Venezuela.
The Parliamentarian stressed that the overthrow of the legal national leader under the pretext of restoration of human rights and true democracy was a cynical American methodology which had been already tested in Iraq, Libya, Georgia, Ukraine and even in Russia during the 1990s.
Today Russia is obliged to support Venezuela and its legal president on the international level and to prevent plundering of this country by liberal dissenters headed by Juan Guaido.
Rally participants call on all progressive forces of the world to oppose the US – led coup attempt and support the only legal President Nicolas Maduro.
CPRF CC International Department