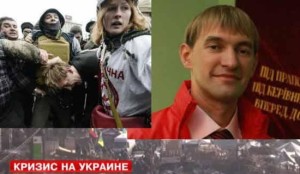 1)  
Rostislav Vasilko
, the secretary of the Communist Party in Lviv  tortured by the fascists in Ukraine.
2) An old lady bringing flowers to Lenin statue beaten by some fascists in  Ukraine.
3) A  Rock singer beaten on stage by two  fascists in  Lviv :
Ukrainian fascists in the city of Lviv beat the frontman of a rock-group.
4 ) Ukrainian fascists destroying an office of the  Communist Party: