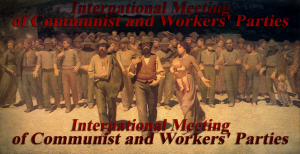 We representatives of Communist and Workers' Parties, gathered in Beirut, Lebanon, for the Working Group meeting of the IMCWP, express our deep concern and rejection of the US-instigated counter–revolutionary actions in Venezuela.
It is quite clear that the imperialist interests, through national reactionary forces are trying to defeat the Bolivarian Revolution in Venezuela, despite the numerous electoral defeats they have suffered.
We express our strong support of solidarity to the people of Venezuela, its working class, the Communist Party of Venezuela, the Bolivarian Venezuelan government, and the popular forces.
Workers' Party of Belgium
Communist party of Brazil
Communist party of Cuba
AKEL, Cyprus
Communist party of Ecuador
Communist Party of Greece
Lebanese Communist party
Palestinian communist party
Portuguese Communist party
Communist party of the Russian Federation
Communist Workers` party of Russia
South African Communist party
Syrian communist party
Syrian communist party (unified)
Communist party of Bohemia and Moravia
Communist party of Turkey
Communist party of Ukraine