On November 7, 2020 in honor of the 103rd Anniversary of the Great October Socialist Revolution members of the Communist Party of the Russian Federation held rallies and pickets across the country.
In Moscow the ceremony was attended by the CPRF CC members, the Communist Party Faction in the State Duma (Parliament) of the Russian Federation, Moscow city and regional committees of the CPRF, as well as representatives of public movements such as: "In support of the Army", "Russian scientists of socialist orientation", "Children of War", the "Union of Soviet officers", "Hope of Russia" All-Russia women's movement, Lenin Communist Youth Union and the "Left Front".
Wreaths and flowers were laid at the Mausoleum of V. Lenin and the Memorial Complex of the Heroes of the Revolution on Red Square.
The Communist Party leader G.A. Zyuganov addressed his congratulations to the citizens of the country stressing the significance of the great Revolution and its role in Russian history and throughout the world as well.
"This was hard time for our country. The Soviet Union has won the great victory, thanks to courage, willpower and faith in justice and ideas of communism"- he said.
In St. Petersburg the Communist Party and its supporters held a March to lay flowers to "Aurora" cruiser in honor of the 103rd anniversary of the October Revolution.
Unlike the ceremony in Moscow, the action was unauthorized, but despite of all attempts the local authorities failed to prevent it.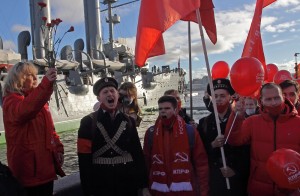 This march was headed by the First Secretary of the CPRF St. Petersburg city committee, Deputy of the Legislative Assembly Olga Khodunova and Lenin Communist Youth Union members dressed as revolutionary sailors and red army soldiers.
During the march its participants sang revolutionary and Soviet songs. At the point of destination, near the cruiser, they performed the "International".
Despite all bans, and repressions Communists came here to fulfill their duty to their fathers and grandfathers although the rally at the cruiser was not allowed – said Olga Khodunova.
Police officers have conducted themselves properly.
CPRF CC International Department