On November 7, 2019, thousands of people with red colors took part in the demonstration led by the Communist party in Moscow in honor of the 102nd anniversary of the Great October Socialist Revolution.
United columns of CPRF supporters and members along with Left National Patriotic forces, trade unions, women's and youth organizations moved to the Squire of Revolution chanting antigovernment and anti – president slogans. Demonstrators demanded an immediate stop of anti-people social policy, looting of national resources and political persecution of rivals such as Pavel Grudinin.
Traditionally, such political events are being supported by local activists and regional communists who came to support the party. One of them said that the results of the recent elections in Russia had clearly revealed the growth of fear in governmental structures because of stepping up national support given to the Communist party in the country. People have come to understanding that socialism is the only fair society.
Sergei Udaltsov, the "Left front" Coordinator, while expressing his opinion about the rallies honoring the October revolution highlighted that they are should be assumed by the Government as a warning of coming changes.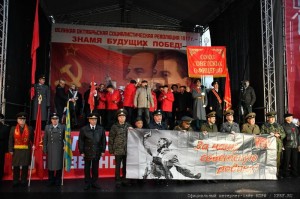 "Today, capitalism is a brake on the development of Russia, so our country needs a drastic change in power and course of development" – he said.
The demonstration has culminated in a rally on the Square of Revolution with contributions of Gennady Zyuganov, Pavel Grudinin, Valery Rashkin, Anastasia Udaltsova, Nina Ostanina and other speakers. In their contributions they called for unity of all national progressive forces under the banner of the Great October and for immediate change of social and economic course of Russia.
CPRF CC International Department