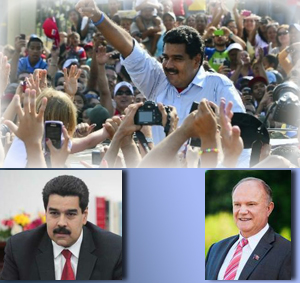 To the President of the Bolivarian
Republic of Venezuela
Nicolas Maduro
Dear Comrade President!
The Venezuelan people have made their choice. You, the faithful ally of Hugo Chavez, have been elected President of the Bolivarian Republic of Venezuela. Your victory is encouraging citizens of your country and ensuring that the building of social housing, clinics and schools will be continued, that there will be free education and Venezuela will continue independent domestic and foreign policy.

You are not alone in the fight; the people of Latin America, all the progressive forces of the world are at your side.
The Communist Party of the Russian Federation, all friends of Venezuela in Russia warmly congratulate you on your victory. Sure that you will be a worthy successor to Comandante Hugo Chavez.
The struggle continues! Till complete victory!
Gennady Zyuganov
Chairman of the CPRF Central Committee,
The head of the CPRF faction in the State Duma